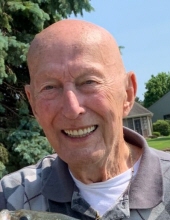 Obituary for Al Giuliano
Al Giuliano, 83 of Bloomington passed away Monday June 10, 2019 at 9 AM at Advocate BroMenn Medical Center in Normal.
There will be a funeral service for Al on Friday June 14, 2019 at 3 PM at Calvert & Metzler Memorial Home in Bloomington. Pastor Ed Herald will officiate. There will be a visitation from 2-3 PM at the Memorial Home. Interment will be in Park Hill Cemetery with military rites performed by the Bloomington-Normal American Legion Honor Guard and Patriot Guard Riders.
Al was born in Hempstead, Long Island, New York on January 22, 1936 to Sam and Stella Ozahosky Giuliano. He married Kathy Griffin on August 31, 1995 in Bloomington. She survives. He is also survived by four children Sandy Giuliano of Reno, NV, Deanna (Kurt) Johnson of Florida, Jeremiah (Leslie) Elder of Bloomington and Emily (R.J.) Foley of Bloomington, many grandchildren including his most recent Audrey Elder and several great-grandchildren. One sister Loretta Boolukos of Palm Bay Florida, two half-sisters Elaine (Alfonse) Cirelli of New Jersey, Marion Alpaugh of Virginia, and several nieces and nephews.
He was preceded in death by his parents.
Al served as a SEAL (Frogman) in the United States Navy during the Korean War. Al retired in 2004 from District 87 where he worked in Maintenance. He enjoyed fishing and his pets. Al was a member of Victory Church in Bloomington.
Memorial contributions may be made to the Humane Society of Central Illinois, BroMenn Adult Day Care or to the family.