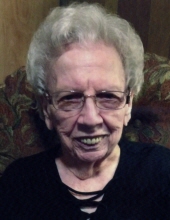 Obituary for Alice M Middleton
Alice Marie Middleton, 89, of Rutland, IL passed away at 8:13 a.m. Thursday, May 30, 2019 at her home surrounded by her family.
Funeral services will be 1 p.m. Monday, June 3, 2019 at Calvert-Johnson & Froelich Memorial Home, Toluca, IL with Rev. Ed Sinclair officiating. Burial will follow at Rutland cemetery. Visitation will be 11 a.m. to 12:45 p.m. Monday at the memorial home. Memorials may be made to the Rutland American Legion or St. Jude's Midwest Affiliate.
She was born August 21, 1929 in Princeton, IL the daughter of Ira and Luella Eggers Miller. She married Carroll Middleton on January 29, 1949 at the English Lutheran Church in Streator. He died April of 1995.
Surviving are eight children Luella "Ellie" Flynn of Toluca, George (Jane) Middleton, Rick (Sue) Middleton, Kathy (Jim) Flynn, Cindy (Bob) Oldenburg, Mary Jo (John) Arndt all of Rutland; Jackie (Al) Charlier of Dana, and Charlie Middleton of Rutland; sixteen grandchildren and twenty-seven great grandchildren and two great-great grandchildren; one sister Daisey Kopec of Cherry.
She was preceded in death by her parents, two daughter Carol Marie and Myra Kaye, one grandson Derrick Flynn, one brother, and three sisters.
Alice tended bar in Wenona, Toluca, and Rutland and then worked as an LPN at nursing homes in Rutland and Heritage Manor in Minonk. She loved and collected Angels and Clowns. She enjoyed playing card with family and shopping at Walmart and Dollar General.
Alice was a loving mother, grandmother, great grandmother, and great-great grandmother enjoyed spending time with her family and friends.