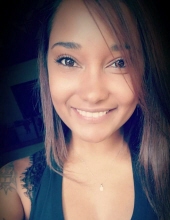 Obituary for Allissa L. Martin
LINCOLN- Allissa L. Martin, 27, of Taylorville formerly of Lincoln passed away on Sunday, June 2, 2019 in St. Louis, MO.
Allissa was born on June 30, 1991 in Streator, IL the daughter of Harold Martin and Heidi Cook.
Allissa is survived by her parents; her step-children, Dawson Jenkins, Kaydon Jenkins, Jullion Jenkins, and Jamison Jenkins; her siblings, Leticia (Cody) Miesner, Chuy (Nichole) Cook, Bubba (Kasey) Cook, Chaka (Harley) Utterback, Lataya (Marcus) Martin, Pete "Skeeter" Moxley, Joey (Kimberly) Martin, and Cameron Cook. Additionally, she is survived by several Aunts, Uncles, Nieces, Nephews, Cousins, and her fur baby, Crush.
Allissa had nothing but love for everyone in the world; she will be greatly missed by anyone fortunate enough to have known her.
Allissa is preceded in death by her maternal grandparents; paternal grandparents; her sister, Rakiya; her niece, Isabella; and her cousins, Kayla and Emma.
Services for Allissa will be held on Saturday, June 8, 2019 at Fricke-Calvert-Schrader Funeral Home in Lincoln, IL. Visitation will be held three hours prior to the service (1:30pm-4:30pm) also at the funeral home. Memorial donations may be made in Allissa's name to her mother, Heidi Cook who will be using the donations for a memorial fund for Allissa's stepchildren.