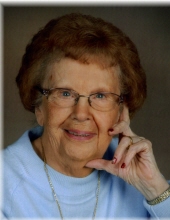 Obituary for Anna M. Barr
Anna "Anne" Barr, age 99, of Pekin, Illinois, formerly of Sierra Vista, Arizona, Minonk, Illinois, and Peru, Illinois left this Earth peacefully and on her own terms surrounded by family on May 3, 2019 at 12:06 am. Born March 2, 1920 in Peru, Illinois, she was the daughter of Robert and Maria Dirkes Noel. She married Edward "Ed" Barr on November 14, 1943 in Wichita Falls, Texas. They were married for 64 years before he passed on November 12, 2007. No doubt that when they were reunited Ed looked at her and said "where ya been kid?"
Left to cherish her memories and honor her legacies are her children: Bill (Jill) Barr of Peoria, Illinois (formerly of Tremont) and Steve Barr of Normal, Illinois. Six grandchildren whom she adored: Jim (Kathy) Uphoff of Washington, Illinois; Joe (fiancée Denise Bolinsky Williamson) Uphoff of Camp Hill, Pennsylvania; Zach (Larissa Armstrong) Barr of Bloomington, Illinois; Lauren Barr of Peoria, Illinois; Darah Hannan of Peoria, Illinois and Seth (Craig Resendes) Hannan of Kissimmee, Florida. Five great grandchildren who were her pride and joy: Joe (Lori) Ryland of McCook, Nebraska; Lauren Funicelli of Elizabeth City, North Carolina; Kelsy (Brandon) Wilson of Mitchell, Indiana; Tyler Uphoff of Washington, Illinois and Jordan Dieken of Peoria, Illinois. Three great, great grandchildren who she cherished: Alivia and Emilia Wilson, both of Mitchell, Indiana and Reece Ryland of McCook, Nebraska
She was preceded in death by her beloved daughter Ruthanne. Their joyous reunion was probably by far one of the very best that heaven has ever seen.
She lived her life of 99 years and 2 months to the fullest. Her health had been perfect up until 2 days before she passed. She often said getting old wasn't for sissies! She was a renaissance woman who was ahead of her time in a patriarchal world. Her careers included newspaper editor of the Minonk News Dispatch, correspondent for the Peoria Journal Star, bank manager and legal aide, all this while raising three children, being a homemaker and the "hostess with the mostest". She was a fiery redhead and continued to have her "natural" hair color until last year (only her hairdresser knew for sure). She had the spitfire and ornery attitude to match her hair. She was smart, tough, artistic, witty, brutally honest, compassionate, open-minded and selfless.
Christmas at her home every year was always referred to as the "Christmas Explosion". Her home was immediately decorated for Christmas every year on November 1st. Trees in every room, her Christmas village, Santa and angel collections covered every square inch of her home. This was the same day that she also started wearing her extensive wardrobe of Christmas sweaters, Christmas shoes and Christmas jewelry. Her family has long believed that Anne was the real Santa Claus.
She was an incredibly gifted woman who made beautiful things out of nothing, countless afghans for the church bazaars, handmade Christmas ornaments for family & friends and needle pointed 100 Christmas card every year. She gave up driving 2 years ago only because she preferred to be chauffeured.
Anne loved many things, including: her grand dogs Casey Lynn and Joe, the Chicago Cubs, pink nail polish, Popes Francis and John Paul II (she touched his hand), travel, metallic thread, hats, potato pancakes, pretty blue glass, stylish shoes, family pictures and social gatherings. Above all she loved her family, her friends and her faith. She was loved beyond words and will be greatly missed.
A Mass of Christian burial will be held at 11:00 a.m. Saturday May 11 at St. Patrick's Catholic Church, Minonk, Illinois with Franciscan Friars officiating. Family will receive friends from 9:30 to 10:45 a.m. at the church on Saturday. Burial will follow at St. Patrick's Catholic Cemetery, Minonk. Calvert, Johnson & Froelich Memorial Home, Minonk is assisting the family with arrangements.
Memorials may be made to: As Good As Gold Golden Retriever Rescue of Illinois, 518 South Rt. 31, Suite 178 McHenry, Illinois 60050 or Peoria Players Theatre (stage improvement fund), 4300 N. University, Peoria, Illinois 61614.