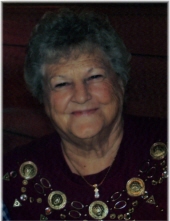 Obituary for Barbara L. Johnson
Barbara L. Johnson, 87, of Bloomington, IL passed away at Bloomington Rehabilitation & Health Care on Thursday, September 5, 2019 at 10 p.m.
Visitation will be 5 to 7 p.m. on Tuesday at Calvert & Metzler Memorial Home, Bloomington. Cremation rites will follow per her wishes.
Barb was born December 21, 1931 in Bloomington, IL the daughter of John P. and Dovie Swearingen Wyatt. She married Raymond E. Johnson on May 3, 1948 in Peoria, IL. He died March 13, 2017.
Surviving is one daughter Paula (Pat) Noble of Waynesville; six grandchildren, fifteen great grandchildren and seven great great grandchildren and several nieces and nephews.
She was preceded in death by her parents, one daughter Donna Rae, one brother and a half sister.
Barb attended West Twin Grove Church and enjoyed sharing her music. She had been a Pastor at the Spirit of Life Ministries in Bloomington.