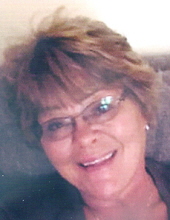 Obituary for Betty Sue "Susie" Copeland
KENNEY - Betty Sue "Susie" Copeland, 67, passed away at her home on August 5, 2019.

Susie was born on September 27, 1951 in Springfield, IL; daughter of John Samson and Margaret "Betty" McLean. She married Michael Copeland on July 6, 1974 in Springfield, IL. He survives her.

Also surviving are her children: Andy Copeland of Mt. Pulaski, IL, Jason (Kimberly) Copeland of Nevada, IA, and Kelly (Brad) Lowery of Lincoln, IL; one sister: Linda (Tom) Vehovc; four grandchildren: Addison Copeland, Isabelle Copeland, Marcus Lowery, and Cedric Lowery. She was preceded in death by her parents.
Susie worked as a mental health technician for Lincoln Developmental Center for 15 years and at McFarland Mental Health Center in Springfield, IL.

Susie was a member of Mt. Pulaski Christian Church. She enjoyed gardening, her dogs, and loved spending time with her family especially her grandchildren.

Services for Susie will be 2:00 p.m. Thursday August 8, 2019 at Veail Chapel in Steenbergen Cemetery with Mark Weber officiating. Visitation will be held from 12:30-2:00 p.m. prior to service. Burial will follow the service at Steenbergen Cemetery. Memorials may be made in Susie's name to her family. Fricke-Calvert-Schrader Funeral Home in Mt. Pulaski is entrusted with arrangements.