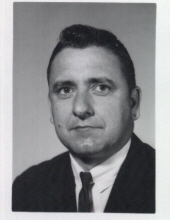 Obituary for Chester Francis Massino
TOLUCA- Chester Francis Massino 'Athlete, Educator, Inventor' 89, of Rutland, passed away peacefully surrounded by his family and the caring staff at 1:08 pm on Thursday November 15, 2018 at Heartland Health Care Center in Henry.

He was a member of St. Ann's Catholic Church in Toluca where his memorial mass will be held at 11 AM on Saturday November 24, 2018 with Franciscan Friars officiating. Visitation will be 1 hour prior to the mass from 10 AM-11AM at the church and burial will follow at St. Ann's Catholic Cemetery, Toluca.

Memorials may be given to Toluca Fire and Ambulance. Calvert-Johnson and Froelich Memorial Home in Toluca is assisting with arrangements.

Chester was born in Toluca on October 5, 1929, a son to Frank and Sandra Carrara Massino. He married Yvonne Schulte in Toluca on November 18, 1950. She survives.

Also surviving are his son Chester David Massino, Toluca; 3 brothers, Joe Massino, Hennepin, Larry Massino, Villa Park, IL, Frank Massino, Napa Valley, CA; and several nieces and nephews

He was preceded in death by his parents, 2 brothers, and 3 sisters.

Chester graduated from Toluca High School. He served in the Peoria Air National Guard. He then gained his B.A. from Eureka College and his M.A. from Bradley University and then further extended his studies at Northwestern University. He began his career teaching English and coaching all sports in Malden, IL. During that time, he received "Football Coach of the Year" from Eureka College in 1958. Chet quarterbacked the Eureka College Football team where he was eventually inducted into the Eureka College Sports Hall of Fame. He also enjoyed playing in the Peoria Sunday Morning Baseball League.

He served as superintendent of schools for various districts in Illinois and Iowa and retired in 1986 after 30 years of service.

He had many accomplishments in life; for instance, while working in Clinton, Iowa he directed a 30-minute TV program on the advantage of attending Clinton Community College which drew high praise from the administration and TV officials. He served on the Executive Board of the National Italian Sports Hall of Fame in Chicago. He was the inventor of the first "safety baseball" named "Ragball". This invention went nationwide with the help of baseball manager Tommy Lasorda and actor David Hasselhoff.

He had a great love for his family and will be dearly missed.