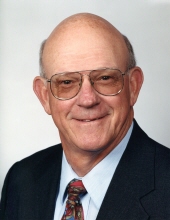 Obituary for Clyde I. brown
Clyde I. Brown, 80 of Normal, passed away at 9:05 pm Monday evening May 6, 2019 at Luther Oaks, Bloomington.

Clyde was born October 10, 1938, the son of Howard D. & Bessie M. (Jones) Brown in Pensacola, Florida. He married his German Sweetheart in Germany, Sigrid H. Sobottka January 7, 1960 in Hof, Germany. She survives.

Also surviving are two sons; Michael (Je'anne) Brown & Jerry (Cathi) Brown and 3 grandchildren, Maysen, Kai, Brysen and 1 Brother. He was preceded in death by his parents, 6 brothers and 2 sisters.

He served in the US Air Force from 1956-1969 during the Vietnam War. He graduated with a Bachelors Degree of Science in Business Management from Illinois State University. He taught evening classes as an Adjunct Professor for Heartland College. Clyde enjoyed volunteering for many causes ranging from Service Corps of Retired Executives (SCORE), to PGA tournaments. He retired from State Farm Insurance after 28 years as a Senior Analyst. Clyde received many accolades throughout his life; including designing the official State Farm Retirees Web Site, National Honors Society while at ISU and received many Air Force medals.

After retirement, he opened and operated his own network business, "Small Business Computer Bureau" for 10 years. Clyde enjoyed going on fishing trips to Canada, Florida, Missouri, Texas and the local fishing lakes, as well as playing lots of golf.

The family would like to thank the Luther Oaks staff for their kindness and dedication to Clyde.

There will be a private funeral service at Calvert Metzler Memorial Home, Bloomington on Monday, May 13, 2019. Burial will take place at East Lawn Memorial Cemetery. Memorials may be made to the Donor's choice.