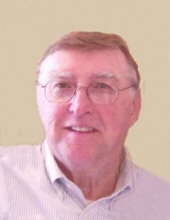 Obituary for David Leonard Olson
ELKHART - David Leonard Olson, 78, of Elkhart, IL passed away at St. Joseph's Home in Springfield, IL on November 26, 2018 at 1:40 a.m.

David was born on December 2, 1939 in Lincoln, IL to Alfred and Mildred (Amberg) Olson. He graduated from Elkhart High School in 1958, and married Lois Carolyn Sapp on July 7, 1958. He was a lifelong grain and livestock farmer with his family in Broadwell and Elkhart. He was blessed with a large and loving family, and devoted his life to his children, grandchildren and great-grandchildren.

David is survived by his wife, and their 6 children: John (Ann) Olson of Elkhart, Dana (Curt) Hudson of Elkhart, Elizabeth (Mike) Anderson of Mt. Pulaski, Joe (Angela) Olson of Elkhart, William (Emily) Olson of London, UK, and Richard (Jason) Olson of Swampscott, MA. He is also survived by their 21 grandchildren and 22 great-grandchildren, as well as his sister, Mary Ann Garrison of Kirkwood, MO.

He was preceded in death by his parents, and his brother, Robert F. Olson.

A funeral mass for David will be at 2:00 PM Friday, November 30, 2018 at St. Patrick's Catholic Church in Elkhart, IL with the Rev. Jeffrey Laible officiating. Visitation will be held from 4:00 – 7:00 PM Thursday, November 29, 2018 at St. Patrick's Catholic Church with rosary services starting at 3:30 PM. Burial will follow services at Elkhart Cemetery. Memorial donations may be made to St. Patrick's Catholic Church, St. Joseph's Home, or The Alzheimer's Association. Services are entrusted to Fricke-Calvert-Schrader Funeral Home in Mt. Pulaski, IL.