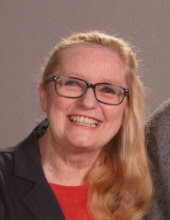 Obituary for Deanna J. Hunt
Deanna Johnson Hunt died on June 6th after a year's struggle with cancer. Her last weekend was one of joy as she watched her two and a half-year-old grandson Aramis ("Ram") play with his trucks and cars near her bed while telling her stories, and often kissing her hand.
Deanna was born on June 15, 1943 in Detroit Michigan, the only child of Edwin Hjalmar and Kathryn MacGregor Johnson. She grew up in the Upper Peninsula of Michigan in the small town of Gulliver where she gained her enduring links to nature and the meaning of community. She graduated from high school in nearby Manistique, Michigan and went to Northern Michigan University where she earned her bachelor's degree in Speech Pathology and Audiology. She had chosen that major in part because of her own experience; at age 14, she had been a passenger in a car involved in a wreck, receiving a head injury that produced a temporary loss of her capacity to speak.
After graduating from NMU she was received a scholarship to study in the Speech Pathology program at the University of Michigan, earning a master's degree. It was there she met her future husband (Dr.) Bob, who was shortly introduced to Deanna's patients there, many who were stroke victims, or victims of road accidents as she had been. Dee and Bob married in December 1965, at the First Presbyterian Church in Philadelphia, PA.
Dee and Bob lived lives that featured both stability and mobility. They lived for a year in New London, CT, and then from 1969 onward in Normal, IL. Dee taught six years at Illinois State University, then did clinical work at Mennonite Hospital before entering private practice. But during these same years she and Bob also spent time away from Central Illinois, living for nearly three years in India, and for over a year in Thailand, South Korea, and Sri Lanka. In India, Deanna started the first speech and hearing program in Gujarat state at the Bhakubhai Mansukbhai Institute in Ahmedabad. Her clinical leadership and planning efforts led to expanded work, and the Institute and Gujarat University now offer degrees in speech pathology and audiology.
Dee and Bob had one son, Dr. Drew Huntleigh, born in 1978. He earned his doctorate in political science at the University of Delaware, and currently works for U.S. Citizenship and Immigration Services at the Chicago Asylum Office. His wife, Dr. Amanda Grizzle Huntleigh, is an Assistant Professor of Music and Director of Choral Activities at Clarke University in Dubuque, IA. Their son, Aramis, is employed offering genuine love to Gramma Dee and anyone else who needs it.
During her final illness word from Drew's long-time friends and many others have made clear what a special person she was, in terms of hospitality and her capacity for love, greeting all guests at the house with open arms, no matter how mohawked or trenchcoated. In India, one of the children to whom she was closest used to say to her mother each time Dee came into the room "how sweet she is mummy." Indeed she was.
Dee's memorial service will be at 10:30 am on June 22nd at the First Presbyterian Church of Normal where she had provided active leadership on mission and outreach programs. Pastor Matt Wilcox will officiate. Calvert Metzler Memorial Home is in charge of arrangements.
Memorials can be made to: First Presbyterian Church, Hunt Family Fund at the Illinois State University Foundation or Manistique, MI Area Schools Foundation.