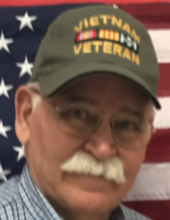 Obituary for Dennis L. Garrett
Dennis L. Garrett, of Lexington, was born in Bloomington, IL on October 12,1946 to Clifford and Roberta (Rhoda) Garrett. He passed away unexpectedly on January 2, 2019 at Florida Hospital Tampa while spending the Christmas holiday with family.
Dennis graduated from Lexington High School in 1964 and went on to graduate from Southern Illinois University in Carbondale with a degree in Forestry.
He served in the United States Army during the Vietnam War and was a proud veteran. He trained and showed American Paint Horses for many years, traveling the country and passing this love onto his daughter Tammy. He worked for many years at the FS Research Farm in Lexington, operating cattle feed trials. Before his retirement he also worked at Kerry Foods in Gridley.
He married Sherry (Vandegraft) Graham on July 29, 1995 in Lexington. She survives. Others surviving are daughter Tammy (Danny) Feezor of Towanda and granddaughter Ashlynn Feezor. He is survived by a brother, Keith (Diane) Garrett of Westville, Illinois. He is also survived by step-daughters Kelli Doyle and Tricia (David Gay) Graham of Florida. In addition, step-grandsons Colin and Patrick Doyle, step-granddaughters Molly Doyle and Kristen Gay, along with many aunts, uncles, cousins, nephews, great nephews, a great niece, and one brother-in-law Fritz (Sharon Wissmiller) Vandegraft.
He was preceded in death by his parents, grandparents, step-grandson Sean Doyle and step-granddaughter Kayla Sutter.
In his retirement he enjoyed traveling, working with horses, antiquing, reading, and most of all, his loving family. Dennis was an immensely kind and giving man who will be greatly missed by all whose lives he touched.
As he wished he was cremated. A celebration of his life is planned for February 2, 2019 from 1:00 - 4:00 P.M. at the Lexington Community Center, 207 W. Main. Military Honors will be presented at 1 P.M.
Memorials can be made to American Legion Elmo F. Hill Post 291, P.O. Box 171 Lexington, IL 61753.