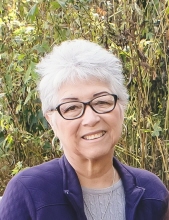 Obituary for Florentina Piña
Florentina Piña, 70, of Pontiac, passed away peacefully at home at 6:07 AM, Thursday, September 5, 2019, surrounded by her family.
Funeral services will be held Monday, September 9, 2019 at 11:00 AM at St. Mary's Catholic Church, Pontiac, IL. A visitation will be held Sunday, September 8, 2019 from 3 to 6 PM at St. Mary's Catholic Church. Burial service will be held in Reynosa, Mexico. Donations can be made in her memory to St. Mary's School, Pontiac or the American Cancer Society. Calvert and Martin Funeral Home in Pontiac is handling the arrangements.
Florentina was born October 16, 1948 in Reynosa, Tamaulipas, Mexico, the oldest child of Melquiades and Gertrudis Briones. She married the love of her life, Jose Luis Piña, Sr., on September 16, 1964 in Reynosa, Mexico. He survives in Pontiac.
She is also survived by her children: Joe (Melissa) Piña, Nancy (Alfredo) Cortez, Eduardo "Eddie" Piña, and Esmeralda Piña, all of Pontiac, 17 grandchildren, 15 great grandchildren, 6 sisters, 2 brothers, her mother in law, Pilar Piña of Pharr, Texas and many nieces and nephews.
She was proceeded in death by her parents, 2 sons: Jose Luis Piña, Jr. and Pilar Piña, 2 sisters: Socorro (Muñeca) Briones and Ana Garcia, her father in law: Antonio Piña, and 1 great grandchild: Javier Cortez Evans.
Florentina was a homemaker before going to work at Nationwide Glove Factory until its closure. Her greatest love was for her husband of almost 55 years and the family they built together. She loved to sing and rock her great grandchildren to sleep. Her home was filled with love, laughter and the smell of food. She was a kind and selfless woman. She loved to crotchet, garden and loved the Chicago Cubs. She will be deeply missed by her family and friends.
Thank you to Illinois CancerCare and OSF Hospice for their love and support.
Previous Events
Visitation
St. Mary's Catholic Church
119 East Howard Street
Pontiac, IL 61764
Service
St. Mary's Catholic Church
119 East Howard Street
Pontiac, IL 61764