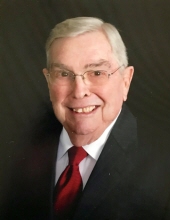 Obituary for Gene "Bud" Archer
Gene "Bud" Archer, 90, passed away on Saturday, May 11 at Advocate BroMenn.

Bud was born in Bloomington IL on January 13, 1929.
He graduated from Normal Community High School and Illinois Wesleyan University
with a BA degree and was a member of the Sigma Chi Fraternity.

He married the love of his life, Jane Pettit on June 20th, 1953 in Bloomington, IL. They had
lived most of their married life in Normal, Il.

Bud worked at Bloomington Offset Process Inc. in sales for 26 years until his retirement.
After his retirement he volunteered at Advocate BroMenn for 15 years.
Bud enjoyed gardening, painting and most of all spending time with his family.
He was a lifelong member of the First United Methodist Church of Normal.

He is survived by his wife, Jane; his two daughters, Lisa (Jim) Jezewski, Randolph, NJ and
Jill (Walter) Stroink, Bloomington, IL ; his grandchildren, Megan (Shaun) Conrad, Michael (Tali) Jezewski, Lauren (Brian) Weldon, Jackie (Erik) Axelson, Katie (Chris) Troksa,
and Andrea Stroink; as well as seven great-grandchildren, Logan Conrad, Sloane Conrad, Asher Jezewski, Lucas Axelson, Charlotte Axelson, Archer Axelson and Ava Troksa.

He was preceded in death by his parents and two sisters, Mona Bolinger and Marion Appleton.

There will be a private graveside service at Funks Grove on Saturday May 18, 2019. Calvert Metzler Memorial Home, Bloomington is in charge of arrangements.

In lieu of flowers, donations may be made to Community Cancer Center or the Alzheimer's Association.