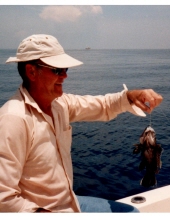 Obituary for George F. Winkel
Lincoln- George F. Winkel, passed away at 8:20 a.m. on June 24, 2019 at his home surrounded by his loving family.
George was born on February 14, 1933 in Lincoln, IL; son of Ernest and Velna (Easton) Winkel. He married Jane Moore on June 17, 1955 in Lincoln, IL. She survives him.
Also surviving are his children: Larry Winkel, Thomas (Linda) Winkel, Joyce (Bobby) Crosby, and Debra (Gary) Peirce. One brother: Edgar Winkel; four grandchildren: Brittany, Sonna, Melissa, and James; one great grandson: Royce; he is also survived by several nieces and nephews.
He was preceded in death by his parents, five sisters: June, Edna, Mary, Eleanor, and Orleana.
George served his country in the United States Navy from 1951-1956. He enjoyed hunting, fishing, and was a lifelong wood worker. He enjoyed playing cards and marbles with his grandchildren.
George chose to be cremated and there will be no services. Fricke-Calvert-Schrader Funeral Home in Lincoln, IL is assisting the family. Memorials may be made in George's name to the American Kidney Fund.