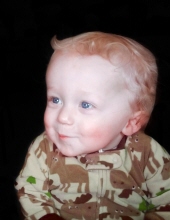 Obituary for Hunter Stanley Kopatch
Hunter Stanley Kopatch passed away peacefully and gained his Angel wings at
3:59p.m. on April 30th, 2019 at OSF Children's Hospital in Peoria, Illinois.
Hunter was born to Samanthia and William Kopatch of La Rose at 6:14 p.m. on
November, 29th, 2017 at St. Margaret's Hospital in Spring Valley, Illinois.
He is survived by three siblings, Nicholas 13, Aiden 7, and Alexis 3.
His paternal grandparents are Robert and Brenda Flannery of South Carolina; andmaternal grandparents, Maynard and Sarah Streitmatter of North Carolina.
His great paternal grandparents are Thomas and Rhoda Milligan of Summerville, SC; and great maternal grandparents, Jim and Mary Moulton of Washburn, IL.
Uncle Issac (Jennifer) Gustafson of Washburn, IL., Aunt Kathryn (Fredy) Castańo ofNew Richmond, WI., Uncle Ethan Streitmatter of Peoria, IL, Uncle Steven (Angel)Kopatch of Rosinville SC, Miranda Kopatch of Jedburg, SC, Brittney Flannery of Ashville, NC,
Cousins Jared, Kaitlyn, Kyler, Ethan, Jasper, Jacyee, Maggie, Buck, Brett, Kaylee, Gabriel, Avery, Haley, Jody, and Mason and many other family and friends. Hunter gave us a lifetime of love during his short time on earth. He will be deeply missed. Hunter had an infectious personality, and a smile that would melt your heart, a one of a kind giggle and beautiful blue eyes. He loved playing with his siblings, snuggling with Mommy and Daddy and learning new things and recently discovered the joys of walking. Hunter also loved his stuffed animals and eating bananas, cupcakes and many other num nums.
In lieu of flowers we would be honored to have you support The Calvert & Johnson Memorial Home to help with interment of Hunter. There will be a visitation from 5:00 p.m.to 7:00 p.m on May 4, 2019 at Calvert & Johnson Memorial Home in Washburn, Illinois.
Cremation rites will be accorded following the viewing; a Celebration of Life will be held at a later date.
We would also like to thank all of the First Responders of the Washburn Ambulance, the countless Doctors and Nursing staff at OSF Children's Hospital in Peoria and all of the Coordinators at the Gift of Hope. The compassion and support we received during this difficult time has helped us through many trying days. All of us will forever be grateful.
Previous Events
Visitation
Calvert & Johnson Memorial Homes - Washburn Chapel
201 N. Jefferson
Washburn, IL 61570