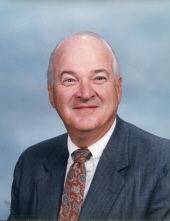 Obituary for Jack Otto Snyder
Jack Otto Snyder, 90, of Bloomington, IL passed away at 10:00 p.m. on October 31, 2019 at Luther Oaks in Bloomington, IL.

Jack was born on March 8, 1929, in Swayze, Indiana to Vera Ruth Kemmer and Ralph Snyder, the middle of 3 boys, Richard and Benjamin. He married Jean Whitmer and they have been married over 70 years; she survives.

Also surviving are daughters Susan Chaney (Bill) of Normal, Vicki Eide (Roger) of Eden Prairie, MN; son Stephen Snyder (Nancy) of Bloomington. Also surviving are 9 grandchildren and 13 great-grandchildren.

He was proceeded in death by his parents, his brother Richard and son Craig.

Jack is known for having developed over 20% of the land area of Bloomington-Normal. He also had developments in Champaign, Springfield, Peoria and Pontiac. In addition, he had projects in Longboat Key and Englewood, Florida.

Jack didn't know a stranger and would always greet people with a smile and a twinkle in his eye. Even in his final days, he may not have known who had walked into his room, but he still had that smile and twinkle.

A Memorial services will be held at 2:00 pm Wednesday November 6, 2019 at First Christian Church in Bloomington. Reverend Dr. Jim Warren will officiate. There will be no visitation. Calvert & Metzler Memorial Home is in charge of arrangements.

Memorial contributions may be sent to First Christian Church or the Boys and Girls Club.