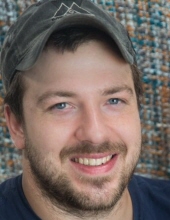 Obituary for James Dean Yordy II
James Dean Yordy II, 28, of Pontiac, IL died at 2:17 a.m. Sunday Aug. 11, 2019 as a result of an auto accident.
Funeral services will be 11 a.m. Friday, August 16, 2019 at St. Petri Lutheran Church, Flanagan, IL with Pastor Amy Berger officiating. Burial will follow at St. Petri Cemetery. Visitation will be 4 to 7 p.m. Thursday at Calvert-Johnson & Froelich Memorial Home, Flanagan and one hour prior to the service at the church on Friday. In lieu of flowers the family request memorials be made to his son Declan Yordy's college fund at the State Bank of Graymont.
James was born April 23, 1991 in Bloomington, IL the son of James Dean and Peggy M. Hemken Yordy. He married Meaghan E. Gove on August 27, 2016 at their home in Pontiac. She survives along with one son Declan J. Yordy and a baby on the way; his parents James and Peggy Yordy of Flanagan; one sister Kara Yordy of Flanagan; and his maternal grandparents Paul and Rita Hemken of Flanagan.
He was preceded in death by his paternal grandparents Herbert and Ruth.
James was a member of St. Petri Lutheran Church, Flanagan. He worked as a diesel mechanic for Travel Centers of America in Morris for 10 years. He loved guns, hunting, the outdoors, listening to music, and working on cars and trucks. He enjoyed fixing anything that was a challenge, and never hesitated to help someone in need. He loved spending time with his family, friends, and especially his son.