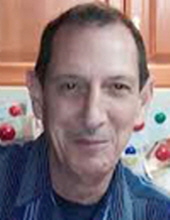 Obituary for James Edward Bergan
James Edward Bergan, age 60, died on Feb. 11, 2019 at home in Fisher, Ill.
Visitation will be from 4 to 7 p.m., Thursday, Feb. 14, 2019, at Heath and Vaughn Funeral Home, 201 N. Elm, Champaign.
A visitation will be at 11 a.m., Saturday, Feb. 16, 2019, at Calvert and Martin Funeral Home, 206 W. Maple Cullom, Ill., followed by the funeral service at noon. Burial will be at Broughton Twp. Cemetery.
Jim was born Feb. 20, 1958, in Champaign, Ill., oldest son of James Bergan and Barbara (Bruner) Bergan Colson.
He attended University High School in Urbana and graduated from Urbana High School. He participated in cross-country and basketball sports at Uni High.
He married Patricia Connery in April 1984. They had three children, who all survive, Ryan, of Champaign, Mathew, of Chicago, and Margaret Reyes (Fernando), of Urbana.
Jim joined Laborers' Local 703 in July 1986, and worked out of the Hall for 33 years, retiring in 2013. He worked on many large projects in Champaign and Urbana, including the Meijers parking lot, several Carle Hospital projects and numerous road construction projects mainly for Cross Construction Company. His laboring colleagues called him Cheese or Cheeseburger, as he was inordinately fond of this food item.

Jim loved to travel and had made major trips to London, England, Paris, France, Hawaii and Alaska.
In his fifties he had taken up music, acquiring a keyboard and teaching himself to play. He also began composing his own songs, which he would play for family and friends. He was a devoted reader of the Sunday New York Times, which his mother would pass along to him. He loved to play pool and participated in the Fisher Pool League for two years. He also enjoyed bowling with his grown children.
He is survived by both parents; three siblings, Richard Bergan, of Lincoln City, Oregon, David Bergan, of Champaign, and JoAnn Bergan Felkner, of Foosland; 10 aunts and uncles, and numerous nieces and nephews and cousins.
Memorials may be made to Eastern Illinois Foodbank.
Previous Events
Visitation
Calvert & Martin Funeral Homes - Cullom Chapel
206 N. Maple Street
P.O. Box 357
Cullom, IL 60926
Service
Calvert & Martin Funeral Homes - Cullom Chapel
206 N. Maple Street
P.O. Box 357
Cullom, IL 60926