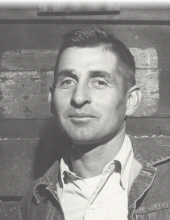 Obituary for James Henry McKee
James Henry McKee, 94, of Washburn, passed away Sunday, September 1, 2019, at 4:57 pm at the Emergency Room of Unity Point Methodist Hospital. Jim has generously donated his body to medical science. A Memorial Service will be held Saturday, September 28, 2019 at 11:00 am at the Washburn Christian Church. The Rev. Bob Debolt will officiate. Memorials may be made to his church or to Common Place, Peoria. Calvert & Johnson Memorial Home, Washburn, is in charge of arrangements.

James was born January 1, 1925 to Curry and Florence (Baer) McKee. He and his twin brother, John Robert, were born at home in Richland Township, Marshall County, Washburn, IL, in the midst of a snow storm. They were kept warm in a market basket on the oven door of the cook stove in their parents' farmhouse kitchen. He married Muriel Faw at the Washburn Christian Church on June 30, 1955. They lived at McMarshall Farms, Washburn, for more than 60 years.

Surviving are his wife, Muriel, and six daughters, Meredith (Bill Manny) of Washburn, Sally (Michael Sork) of Tampa FL, Janet Storms of Washington, Polly (Doug Kocher) of Henry, Laurel (Jim Kramer) of Temecula, CA, and Rebecca (Ross Lange) of Alabaster, AL. He also has nine grandchildren and eight great-grandchildren.

His parents, stepmother Mary, twin brother John Robert, a sister, Mary Jean, and an infant daughter Johni Sue preceded him in death.

Jim was active in 4-H, showing Jersey Cattle. He graduated from Washburn High School in 1943. He spent two years in the United States Army at Ft. Leonard Wood, MO 1950-1952. Jim became an active breeder of Red Poll Cattle and served on the board of the American Red Poll Association for many years. He also served as president of Red Poll Beef Breeders International. He and his wife had the pleasure of attending twelve International Red Poll Congresses starting in 1976. They visited the United Kingdom as guests of the British government, New Zealand, Australia, Uruguay, South Africa, Jamaica, and Canada. They count many as friends from these countries. In later years, Jim had an active interest in mules. He attended many sales in Tennessee, Kentucky and Minnesota.

Jim was appointed to serve on the Governor's Board of Livestock Advisors by James Thompson in 1988. He served until 2013. He was a member of the Marshall-Putnam Farm Bureau. He was a board member of the Washburn Christian Church, as well as a deacon. Jim and Muriel represented their church in the formation of Common Place in Peoria.
Upcoming Events
Service
Washburn Christian Church
100 West Church St
Washburn, IL 61570
Memorial Contribution
Washburn Christian Church
100 West Church St
Washburn, IL 61570