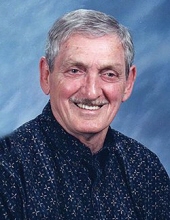 Obituary for James Lynn Franklin
LINCOLN - James Lynn Franklin, 85, of Lincoln passed away on Wednesday, February 27, 2019, at St. Clara's Manor, Lincoln IL.

James was born on September 10, 1933, in Lincoln, IL; the son of Charles and Edith Mae (Arnold) Franklin. He married Patricia Faul on September 18, 1954, in Lincoln, IL. She preceded him in death on June 20, 2009.

James is survived by his daughters, Susan (Ed) Walker of Peoria, IL, Teresa (Dan) Dankoski of St. Charles, IL; brother, Robert Franklin of Lincoln IL.; grandchildren, Elyse Dankoski of Durham, NC.; Olivia (Joey) Starr of Oak Park, IL.; and Patrick Walker of Peoria, IL.

He was preceded in death by his parents, and his wife.

James was a member of Holy Family Church of Lincoln. He was a member of the Lincoln American Legion Post #263, Knights of Columbus; and Holy Family Food Pantry. St. Jude Children's Hospital was very special to him.

Services for James will be held at 2:00 PM on Tuesday, March 5, 2019, at Fricke-Calvert-Schrader Funeral Home in Lincoln. Visitation will take place one hour prior to service, also at the funeral home. Burial will follow the services at St. Mary's Cemetery in Lincoln. Memorial donations may be made in James' name to Carroll Catholic School or St. Jude Children's Hospital.