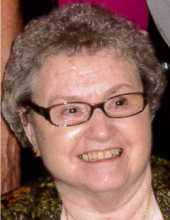 Obituary for Jeane N. Wilson
Jeane Nantz Wilson, 86, of Martin Health Center, Bloomington, passed away peacefully at 4:40 pm on Sunday, May 5, 2019. Jeane was born in Lexington, Kentucky, on September 20, 1932, the daughter of Chuck and Mary Halley Carney. Her father died of pneumonia when she was 3 years old. Her mother later married Tom Nantz, who adopted Jeane as his own.

Jeane married Farley E. Wilson, Sr., on February 2, 1951 in St. Matthews, Kentucky. He preceded her in death on June 21, 2008. They moved to Illinois in 1954 to operate a tourist home in Eureka which had belonged to Jeane's grandmother. After 10 years, they moved to Washington for 12 years and then to Deer Creek, where they resided for 30 years. Jeane worked for Carson Pirie Scott & Co. in Peoria for several years.

Jeane's great loves were horses and Boston Terriers. She rode and showed horses while growing up in Kentucky. She and Farley were original members of the Eureka Saddle Club, which they helped establish. Jeane's favorite day of the year was the first Saturday in May when she could watch the Kentucky Derby: The Run for the Roses.

Following Farley's death, Jeane moved to Martin Health Center in Bloomington. She was always smiling and despite being there for 12 years, never complained. She loved to read and also served as the "movie lady" there for several years.

Jeane is survived by her three sons, Farley, Jr. (Rita) Wilson of Bartonville; Gary (Denise) Wilson of Bloomington, and Michael (Connie) Wilson of Congerville; one sister, Theresa Walton, Frankfort, Kentucky; her grandchildren, Paul (Natalie) Wilson, Stacy (Shane) Gilmore, Cole (Anne) Wilson, Lauren (Brian) Tedder, David (Claudia) Anderson, and Natalie (Mike) Raikes; 12 great-grandchildren; several nieces and nephews; and her grandpuppy Prince.

She was preceded in death by her husband and her parents.

A celebration of life will be held at the Resident Center, Westminster Village on Saturday, May 11, 2019. The family will greet friends 11 am – 1 pm, with a service at 1 pm led by Pastor Bob Martin. This will be followed by a private graveside service for the family at 3 pm when she is laid to rest at Olio Township Cemetery, Eureka, IL. Calvert & Metzler Memorial Home, Bloomington, is in charge of arrangements. In lieu of flowers, donations may be made to The Humane Society of Central Illinois or Susan G. Komen in Jeane's memory.

A very special thank you to the staff of Martin Health Center who provided loving care to Jeane throughout the years.