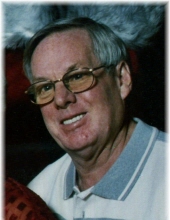 Obituary for Jerry L. Bagby Sr.
Jerry L. Bagby Sr., 78, of Normal, IL passed away at 2:35 a.m. Wednesday, October 30, 2019 at the Loft Nursing Home, Eureka.
Cremation rites were accorded, and a celebration of life services will be 4 p.m. Sunday, November 3, 2019 at Calvert-Johnson & Froelich Memorial Home, El Paso, IL with Rev. Bob Herath officiating. Visitation will be 2 to 4 p.m. Sunday at the memorial home. Inurnment will be held at a later date in Secor Cemetery, Secor, Illinois. Memorials may be made to Transitions Hospice of Peoria.
Jerry was born August 22, 1941 in Bloomington, IL the son of Cecil A. and Dorothy Cavanagh Bagby. He married Peggy A. Hunsinger on June 17, 1966 in Secor, IL. She survives along with two sons Jerry (Lori) Bagby Jr. of Secor and Brian (Nicole) Bagby of Hudson; one sister Pat (Bill) Noll of Roanoke; four grandchildren Kortney, Blake and Skyler Bagby and Cameron Embry; and his dog Abbey.
Jerry was Catholic and worked for Cummins Midstate Power in Normal in the parts and service department. He was an avid drag racer and enjoyed stock car racing with his son Jerry Jr. He also enjoyed snowmobiling with his sons and spending time with his grandchildren and attending their activities.