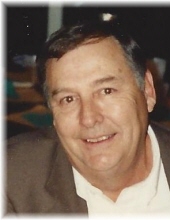 Obituary for John B. Steele
Henry:
John "Jack" Ballard Steele, 90, of Henry, passed away Wednesday May 22, 2019, 7:55 pm at Heartland Healthcare Center, Henry.
Private family services will be held Saturday at Calvert & Johnson Memorial Home, Henry. Fr. John Bosco Mujuni and Deacon Robert Murphy will officiate. Burial will follow at Calvary Cemetery, where full military rites will be accorded by the Henry American Legion. Memorials may be made to the Henry American Legion or the St. John XIII Outreach.
He was born on August 5, 1928, in Henry, IL to Matthew and Rena (Ballard) Steele. After graduating high school he enlisted in the United States Air Force. He married Mary Downey on August 24, 1951, at St. Mary's Catholic Church, in Henry. He proudly served in the United States Army during the Korean War, the 3rd Infantry Division, 7th Infantry Regiment, Headquarter and Headquarters Company, Intelligence and Reconnaissance Platoon. He then worked at Caterpillar Tractor for a short time, then as a fireman for Rock Island Railroad and afterward BF Goodrich in Henry until his retirement.
Jack enjoyed cheering on his favorite sports teams, the Bears, Cubs, Bulls and the Blackhawks. He was passionate about trains, thrilled to receive a lottery ticket and delighted with the sound of big band music. His greatest love of all was his family.
Jack is survived by his wife of 67 wonderful years, Mary; five children, Mike (Michele) Steele of Henry, Marcia (Bill) Sutsser, of Varna, Judy (Joe Osborne) Kissee, of Lacon, Mary Jo (Dave) Robison of Henry, and Julie (Gregg) Schrowang, of Peru; fourteen grandchildren and fifteen great-grandchildren, his brother, Joseph (Clara) Steele, sister, Terry Olson, and numerous nieces and nephews.
He was preceded in death by his parents, sister, Mary Clark Murphy, bother Robert Steele and two great-grandchildren, Phillip and Emma Tarmann.