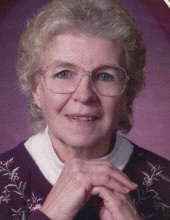 Obituary for Joyce Ann Kath
Joyce Ann (Stenson) Kath of the Carlock area went to be with her Lord and Savior on Tuesday, April 9, 2019 at her home surrounded by her family. All services will be held at Carlock Mennonite Church. A visitation will be Friday from 4-7 p.m. and from 9:30-10:30 a.m. on Saturday. The Funeral will be at 10:30 a.m. on Saturday followed by the burial at Lantz Cemetery. A Pastor from the Carlock Mennonite Church will be performing the memorial service. Otto-Argo-Calvert Memorial Home, Danvers is in charge of arrangements.

Joyce Ann Stenson was born to Maurice & Fern (Gundy) Stenson on March 11, 1938 in Carlock, IL. She married Robert Lee Kath on May 26, 1957 at the Zion Lutheran Church in Danvers. Her husband "Bob" died in an accident on April 7, 1976.

She is survived by her brother Gary (Elsie) Stenson of PA. Her 6 children are Michael (Annette) Kath, Carlock; Brenda (John) Turton, Congerville; Wanda (Jeff) Myers, Carlock; Gary Kath, Bloomington; Linda (David) Bedwell, Danvers; Rhonda Kath, Carlock. She has 11 grandchildren-- Rebecca, Aaron, Ethan & Joel Kath; Heather (Jon) Klein, John Robert (Gina) Turton; Wendy (Michael) Smiley, Brandon (Danielle) Myers; Matthew Haney; Drew Bedwell; Jase Kath; 4 great-grandchildren with another due in May and 2 great-great-grandchildren.
She was preceded in death by her parents, her husband, her sister Arlyss White, her daughter-in-law Debbie Kath, and her granddaughter Victoria Bedwell.

Joyce attended Carlock schools through 8th grade and then graduated from Normal Community High School in 1956. She then attended 1 year of school at Illinois State University.

She worked at various jobs including farming, the never-ending job of motherhood, seasonally working in the office at Carlock Elevator, as a part-time cook at Carlock Countryside Restaurant, and babysitting most of her grandchildren. Joyce was a great homemaker which included gardening, canning, freezing, and baking. Over the many years she enjoyed playing games of all sorts with family and friends as well as reading, crocheting, painting ceramics, doing puzzles, hunting fossils, genealogy research (She is a descendant from 4 Mayflower passengers.), traveling (She visited Europe, Canada as well as over 18 states with friends and family.), attending church activities and her children and grandchildren's sports, musical and achievement events. Joyce was raised in the Carlock Mennonite Church and became a member of Zion Lutheran Church when she was married. She later returned to attending and became a member of the Carlock Mennonite Church. She has been involved in activities in the church for many years including the Women In Mission (WM), helping with the Mennonite Relief Sale and being the Church Historian. She has been very involved in the community from being a former member of the Carlock Jr Women's Club, former board member of God's Little Acre Preschool, former member of the Lantz Cemetery Board and donated land to the Carlock Park in memory of her husband, Robert Lee Kath.

Suggested memorials may be made in honor of Mom to Lantz Cemetery, God's Little Acre Preschool or Carlock Mennonite Church.