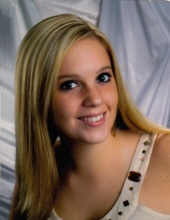 Obituary for Kimberly Diane Mashburn
Kimberly Diane Mashburn, 29, of Decatur, IL passed away at 7:02 PM, May 29, 2019 in Decatur, IL.

Kimberly was born April 19, 1990 in Decatur Illinois and was the second child of Robert "Butch" and Bobbi (Bragg) Mashburn.

Growing up, you could always find a smile on Kimberly's face and her favorite thing to do was to get lost in a book. Kimberly enjoyed family gatherings, swimming with her mother and sister, traveling, going to concerts with her father and partaking in all things Harry Potter with her best friend Emily. Kimberly also held a special place in her heart for animals. The memory of her bright smile, love for her two sons, nieces and nephew and kindness to others will never be forgotten.

Kimberly is survived by her parents, Robert "Butch" and Bobbi (Bragg) Mashburn, her two beautiful children, Aidan and Adrian, sister, Lindsay (Patrick) Nein, and maternal grandmother, Edna J. Bragg. She is also survived by her nieces, Hailie and Addison, nephew, Lucas, Aunts, Diane (Stephen) Kinkaid, Diana (Michael) Edwards, Salena (LeRoy) Beck, Annette Dorrel and many cousins.

Kimberly was preceded in death by her maternal grandfathers, Bobby Minor and Wayne Bragg and, paternal grandparents Grover C "Junior" and Catherine "Elaine" Mashburn.

We will miss her every day for the rest of our lives.

Private family graveside services will be held at a later date with Rev. Mary Alice Cunningham officiating.