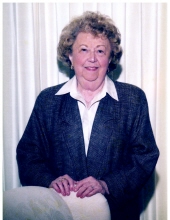 Obituary for Laverda Frances Taylor
LINCOLN - Laverda Frances Taylor, 94, of Lincoln, passed away at 8:00 a.m. on October 2, 2019, at Abraham Lincoln Memorial Hospital. She was born February 25, 1925, in Lincoln, the daughter of Walter Thomas and Esther Schroeder Sparks. She married Robert Stanley Taylor on September 8, 1946, and they enjoyed 49 years of marriage until his death on July 12, 1995. Her parents and Son, Eric Thomas (Linda) Taylor, preceded her in death.

Laverda is survived by her Daughter, Debra Dee Taylor, of Lincoln, IL, Grandson, Logan Thomas (Jessica) Taylor (Plus One), of Belleville, IL, Granddaughters Madison Clar Taylor of St. Louis, MO, Kourtney Elizabeth (Pete) Hernandez (Ava, Levi & Cash) of Sierra Vista, AZ, Tracy Ann (Elmer) Sargent (Owen) of O'Fallon, MO, and Jennifer Ann Steffen (Cordae & Cash) of Riverton, IL.

Laverda began her education in a one room schoolhouse in rural Lincoln and graduated from Illinois State Normal University in Normal, IL. She began her profession as an educator teaching Home Economics at Towanda High School in Towanda, IL. After moving back to Lincoln, she became the Logan County Assistant Home Economics Advisor. She continued with Lincoln Elementary District #27 as their Luncheon Supervisor for the School Lunch Program. She saved the best for last and loved teaching 4th grade at Northwest School for 26 years. She so enjoyed both her colleagues and her students.

A lifetime member of Zion Lutheran Church, Laverda taught Sunday School for many years, and was a member of The Ladies' Aid Society, The Archival Committee, and The Library Committee. As a member of the Philanthropic Education Organization she relished the friendships made and the work done on behalf of the youth. Laverda was also a member of the Illinois Retired Teachers Association and The Lincoln Woman's Club.

The Service to celebrate Laverda's Homecoming will begin at 11:00 am on Tuesday, October 8, 2019, at Zion Lutheran Church, 219 Pulaski Street, Lincoln, IL 62656 with Pastor Mark Thompson officiating. The family will greet guests in the Sanctuary two hours prior. In keeping with the theme of Laverda's life, memorial contributions would be appreciated for Tuition Assistance at Zion Lutheran School, 1600 Woodlawn Road, Lincoln, IL 62656.