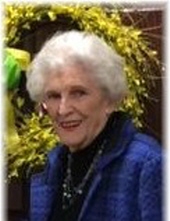 Obituary for Lois J. Burke
Lois Burke, 95 of Gridley died at 6:35 p.m. Friday, June 28, 2019 Meadows Mennonite Home, Chenoa, IL

Her funeral will be at 11:30 a.m. Monday, July 1, 2019 at Christ Community Church with Rev. Andy Huette and Rev. Grant Stauter officiating. Burial will follow at the Gridley Cemetery. Visitation will be from 10 a.m. to 11:15 a.m. on Monday at her Church. Memorials may be made to the Gridley Food Pantry, or the El Paso Gridley School Foundation, or to the church.
Calvert-Johnson & Froelich Memorial Home, El Paso is assisting the family with services.

Lois was born, July 2, 1923 in Peoria, Il., the daughter of Chester and Emily Orr. She married Harold Burke on July 14, 1945 in Peoria. He died October 23, 2005.

Surviving is a son, Terry (Sharon) Burke of Middleton, WI; a daughter Rebecca Nelson of Chesterfield, MO; two grandchildren: Emily (Lee) Dula and T.J.(Vanessa) Burke; and two great grandchildren: Cameron Burke Dula and Liliana Marie Dula and her sister Ruth Obert of Peoria and many nieces and nephews.

She was preceded in death by her parents, Son-in law Grant Nelson, and a brother, Edward R. Orr,

Lois graduated from Manual Training High School in Peoria, Il. in 1941.

Lois and Harold moved to Gridley, Il in 1946 and owned and operated the Gridley Hardware Store for 41 years from 1946 to 1987.

She was a member of Christ Community Church, Women's Fellowship, the American Legion Auxiliary and a longtime Brownie Scout leader. Lois was active in her church and did many years of volunteer work at Meadows Mennonite Home and Spare and Share. She and Harold were active in the WWII National Timberwolf Association.

She loved her family and friends, her community and her church. Lois had a long, happy life and was ready was to go home and be with Harold.