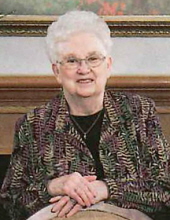 Obituary for M. Loretta Goodman
LINCOLN - M. "Loretta" Goodman, of Lincoln, passed away on Wednesday, December 26, 2018 at The Christian Village, Lincoln Illinois.

Loretta was born on October 8, 1927 in Wilcox, MO; the daughter of Olen and Viola (Sloan) Shelton. Loretta married Ray M. Goodman on July 2, 1947 in Maryville, MO. He preceded her in death on August 31, 1995.

Loretta is survived by her children, Pamela (Michael) Chambers of Kissemmee, FL. R. Milton (Peggy) Goodman of Lincoln IL, Paula (Daniel) Landess of Lincoln IL, Penny (Frank) Stout of El Paso TX; eight grandchildren, Christopher (Nicki) Chambers, Cara (Jason) LeCureux, Rachel (Jeff) Stalnaker, Alyssa (Sam) Wier, Dirk Goodman, Eric (Jen) Goodman, Ashlie (Paul) Martin, and Dana (Mark) Luttrell. She is also survived by 20 great-grandchildren. Additionally, she is survived by several nieces, nephews, great-nieces, and great-nephews.

She was preceded in death by her parents, her husband, and her sister Patricia Jones.

Loretta was very active in the ministries at Lincoln Christian Church and participated in two mission trips to the Dominican Republic. She was involved with The Harvest of Talents and helped at The Logan County Food Pantry. Loretta worked as an aide for The Christian Nursery School for over 25 years.

Services for Loretta will be held at 10:30a.m. on Monday, December 31, 2018 at Lincoln Christian Church in Lincoln. Visitation will take place from 2:00-4:00p.m. on Sunday, December 30, 2018 at Fricke-Calvert-Schrader Funeral Home, Lincoln. Burial will follow the services at Zion Cemetery in Lincoln. Memorial donations may be made in Loretta's name to Lincoln Christian Missions Department at Lincoln Christian Church, The Christian Nursery School, or The Christian Village.