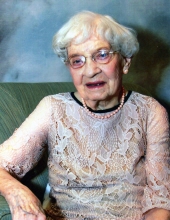 Obituary for Marie Catherine Oltman
Marie Catherine Oltman, 101, of Minonk passed away at 4:00 p.m. on Wednesday, September 4, 2019 at Heritage Health in Minonk.
Her funeral service will be held at 11:00 a.m. on Monday, September 9, 2019 at St. Paul's United Church of Christ in Minonk with Rev. Ed Sinclair officiating. Visitation will be prior to the service on Monday from 9:00 a.m. to 10:45 a.m. at the church.Calvert-Johnson & Froelich Memorial Home, Minonk is assisting the family with services. Interment will be in the Clayton Township Cemetery near Benson. Memorials may be directed to St. Paul's United Church of Christ.
Marie was born on November 27th, 1917 in rural Benson, a daughter to John and Lena (Gastmann) Folkerts. She married Roland Oltman on September 29, 1937. He passed away on February 28, 1992.
Surviving are her children. Two sons: Jack (Rebecca) Oltman, Minonk, and Harvey (Catherine) Oltman, Lacon. One daughter, Joan Osterman, Minonk.
Marie is survived by five grandchildren: Jeff Oltman, Julie (Paul) Brooks, Amy Oltman, John Oltman, Grant (Angie) Oltman; also seven great grandchildren and four great, great grandchildren. Also surviving are two brothers: Eldon (Dorothy) Folkerts, Minonk, and Ron (Dorothy) Folkerts, Washington. Two siblings predeceased her: Virgil Folkerts and Lorene Johnson; as well as one son-in-law, Lewis Osterman.
She and her husband farmed between Minonk and Benson until they retired to Minonk in 1967. Marie was a homemaker who enjoyed playing piano, sewing, traveling and visiting with friends and family. She was a lifelong member of St. Paul's United Church of Christ, serving in the many ladies' groups at church. She was also a member of the Woodford County Home Extension, serving as a 4-H leader. Her gentle and caring spirit will live on in those whose lives she has touched, and she will be dearly missed.