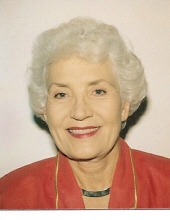 Obituary for Myra Jane Shepard
Myra Jane Rodgers Shepard, Bloomington, Illinois and Ft. Lauderdale, Florida; passed away Tuesday night, around the time the thunder storm rolled in, February, 5, 2019 at the Martin Health Center, Bloomington.

She was born, October 16, 1921, Brokaw Hospital, Normal, Illinois. Father, Harry Hosler Rodgers; mother, Ruth Jane Smith Rodgers.

She married Trent Allen Shepard, December 5, 1948 at Wesley First [United] Methodist Church, Bloomington, Illinois. He preceded her in death on November 1, 1985

Graduated Bloomington High School 1938. Graduated with an AB in Economics from Illinois Wesleyan University,1942. Phi Kappa Phi honorary member, Kappa Kappa Gamma Fraternity member. She worked part time at her father's family's business, Rodgers Shoe Co., in downtown Bloomington.

Served in the United States Navy [WAVES], 1943 to 1946, rank of Lieutenant JG WC - Communications Officer in Chief of Naval Operations Office in Washington D.C.; encoding and decoding top secret, secret, and confidential messages. She received her private pilot's license after the war with her GI benefits.

Myra is survived by her children, Trent Allen Shepard, Jr., Urbana, Illinois; Karen (Jim) Jane McNatt, Atlanta, Georgia; Gregory (Heather) Mark Shepard, Bloomington, Illinois; Tracy (Susan Baller) Morgan Shepard, Bloomington, Illinois; and nine grandchildren.

She was a member of: Wesley United Methodist Church, Bloomington; Board of Trustees, Wesley United Methodist Church; officer Brokaw Service League; YWCA Board member; Girl Scout Advisory Board; Red Cross Blood Mobile; Daughters of the American Revolution as a descendant of John Cory; McLean County Historical Society; McLean County Art Association; Presidents Club Illinois Wesleyan University Alumni Association; Kappa Kappa Gamma Alumni Board; and Bloomington Country Club.

She loved swimming, walking, gardening, traveling, family and friends. She also played golf, tennis and bowled with the BCC ladies groups.

A celebration of life will be held at Wesley United Methodist Church, Bloomington, IL, at 10am on Monday, April 15, 2019 with military honors conducted by the Bloomington/Normal American Legion Honor Guard. In lieu of flowers, donations can be made in Myra's memory to Wesley United Methodist Church, Bloomington, IL.

Calvert & Metzler Memorial Home is in charge of arrangements.
Previous Events
Service
Wesley United Methodist Church
502 E. Front St.
Bloomington, IL 61701