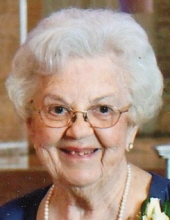 Obituary for Naomi Grace Tarvin
Naomi Grace Tarvin, 94 of Bloomington passed away Sunday June 9, 2019 at 4:38 PM at Advocate BroMenn Medical Center in Normal.
There will be a Funeral service for Naomi on Thursday June 13, 2019 at 10 AM at Calvert & Metzler Memorial Home in Bloomington. Pastor Paul Richmond will officiate. Visitation will be from 5-7 PM Wednesday at the Memorial Home. Interment will be in Funks Grove Cemetery in McLean.
Calvert & Metzler Memorial Home in Bloomington is handling arrangements.
Naomi was born April 8, 1925 in Shirley to John G. and Bertha F. Maupin Muffley. She married Richard H. Tarvin in Shirley on August 18, 1945. He preceded her in death July 19, 2007. She was also preceded in death by two sisters Lorraine Muffley and Madelyn Hammers and three brothers Oscar, Lester and John Muffley.
Naomi is survived by her son John (Sharon) Tarvin of Bloomington, two grandchildren, Heather (Travis) Young of Brentwood, Tennessee, Kourtney (Cody) Erbes of Bloomington, three great-grandchildren, Reagan and Davis Young and Malin Grace Erbes as well as one sister Margaret "Penny" Egan of Normal.
She was a longtime member of Shirley Christian Church where she enjoyed singing and helping with VBS. Naomi retired from the State of Illinois. She worked for Illinois Soldiers and Sailors Children's School until it closed in 1969. She later worked many years for the Illinois Department of Public Aid.
In her free time, she loved ceramics, oil painting and crocheting. For many years she and her husband Richard wintered in Florida.
In Lieu of flowers Memorial contributions may be made to Alzheimer's Association or to Shirley Christian Church.
The family would like to especially thank the staff of Martin Health Center – Bloomington for their care of Naomi.