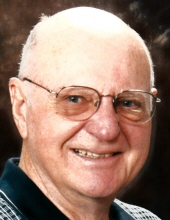 Obituary for Paul Lee Neef
Paul Lee Neef, 90, of Normal passed away unexpectedly at his home Saturday evening May 11, 2019. Paul was born September 17, 1928 in Champaign County the son of Carl F. and Gladys T. Neef.

Surviving are his wife of 71 years, Patricia A. Neef of Normal, a daughter Paula D. Neef of Normal and two grandsons, Bryan T. Neef of Normal and Brent T. (Janel) Neef of Mesa, AZ. Also surviving are three great-grandchildren: Kylie, Carter and Keira Neef of Mesa, AZ.

He is preceded in death by their son, Penn Timothy Neef.

Paul graduated from Urbana High School and attended classes at the University of Illinois.

For several years he was a farmer, then later worked at Brokaw/BroMenn hospital as Director of Housekeeping for 21 years.

Paul loved gardening, fishing, golfing, feeding birds and outsmarting the squirrels. He also enjoyed model trains, sudoku and reading in winter.

He was a loving husband, father, grandfather, and great-grandfather.
He will always be deeply missed and always deeply loved.

There will be a memorial service for Paul on Monday May 20, 2019 at 11 AM at Calvert & Metzler Memorial Home in Bloomington. Pastor Jarrod Herald will officiate. There will be a visitation from 10-11 at the Memorial Home.

Memorial contributions may be made to Wounded Warriors.