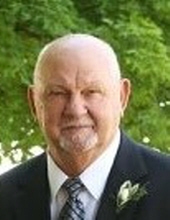 Obituary for Paul Nelson Aper
LINCOLN - Paul Nelson Aper, 81 was born on June 21, 1937 in Lincoln, IL. He was the 6th of 8 children born to John E.S. and Anna Luken Aper. He graduated from Hartsburg-Emden High School in 1955 and went on to serve in the US Army.

He married Jacquiline B. Dietz on November 26, 1960. She preceded him in death. They had three daughters. Mr. Aper retired from Caterpillar Tractor Company. He was a member of St. Peter Lutheran Church in Emden, American Legion Post #263 where he served on the funeral Honor Guard for over 20 years, and Emden American Legion Post #506. Mr. Aper spent the winters in Fort Myers Beach, Florida for many years. He enjoyed the warm weather and built many friendships.

Mr. Aper is survived by two daughters, Kalee (Lynn) Cross of Atlanta, IL, and Kristan (Tom) Lockenour of Lincoln, IL.; 5 grandaughters, Kate Strubhar, Alissa & Sarah Cross, Leah & Rachel Lockenour, 3 brothers and 2 sisters. In addition to his wife he was preceded in death by one daughter: Kathleen Sue Aper.

Funeral services for Paul will be 10:00 a.m. Tuesday January 8, 2019 at St. Peters Lutheran Church in Emden, IL with Rev. John Schurter officiating. Visitation will be from 4:00-7:00 p.m Monday January 7, 2019 at Fricke-Calvert-Schrader Funeral Home in Lincoln, IL. Burial at Hartsburg Union will follow the service where full military rites will be accorded by the American Legion Post #263. Memorials may be made in Paul's name to St. Peters Lutheran Church or the American Legion Post #263 Funeral Honor Guard.