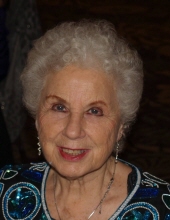 Obituary for Phyllis E. Livers
Phyllis E. Livers, 86 of Normal, IL passed away at 9:06 AM, on Monday December 3, 2018 at Mayo Clinic in Phoenix, AZ, after suffering an unexpected heart attack.
There will be a funeral service in Illinois, followed by a funeral service and burial in Kansas. On Friday, December 14, 2018, at St. John's Lutheran Church in Bloomington, IL, Reverend David Glesne will officiate. The visitation will be at 10:00am, service at 11:00, followed by a luncheon at the church. On Monday, December 17, 2018, at St. Marks Lutheran Church, Waterville, Kansas, Sister Mary Arie will officiate. The visitation will be at 10:00am, service at 11:00, followed by a luncheon at the church. Interment will take place in Waterville, Kansas, at Riverside Cemetery. In Phyllis' honor, please wear blue, teal, or any other bright color to the service.
Phyllis was born March 24, 1932 in Waterville, Kansas to G. Howard and Mildred Geneva Ricard Taplin. She married the love of her life David L. Livers May 20, 1951 in Waterville. At the time of his death, they had celebrated nearly 65 years of marriage. Their long marriage, and the love they shared, are a wondrous example for us all.
She is survived by her four loving children, Daniel Livers of Normal, IL, Cynthia (John) Weidig of Springfield, IL, Stefanie (Wade) Kuefer of Phoenix, AZ, and Jeffrey Livers of Phoenix. She is also survived by six extremely devoted grandchildren, Robyn, Emily, Wesley, Kirk, Nicole, and Rachel, along with two great-grandbabies she loved to call her "critters, and rascals," and her beautiful kitty Joy Blue. Phyllis is survived by her younger sister Faye (William) Kennedy of Manhattan, KS, and two sisters-in-law, Doris (Bob) Blair of Slater, IA, and Jean (John)Hamilton of Council Bluffs, IA. She was preceded in death by her brothers, Glenn (Judy) Taplin of Collinsville, IL, and Gail (Jeaneen) Taplin of Abilene, KS. She will be fondly remembered by many nieces, nephews, and cousins.
Phyllis' life is best celebrated remembering her generous and thoughtful spirit. She was the most loving mother and grandmother, and the strong leader of a strong family. The love-filled loyalty she practiced for decades with family, friends, St. John's Lutheran Church, and neighbors, will undoubtedly be felt by and carried in the hearts of many, even though she has now passed on to Heaven and leaves us behind, dearly missing her. All who knew her well, know that Phyllis was joyful, loved a good joke, and was quick to see the sunny-side of life. She loved to be busy and spent her days imagining how she could be helpful and then taking those actions, and attending her weekly gatherings—Kaffehuset, TOPS, WW's meal after Saturday church, Panera group, church circle, and an art class and bible study in Arizona.
Phyllis grew up on a beautiful farm in Kansas, was a child during the Great Depression, and a young lady during WWII. She carried the lessons in perseverance that formed her during this time, throughout her life. Being frugal, and content with sufficiency was a hallmark of her life. These lessons, and many others, will be lovingly remembered and practiced by her children and grandchildren.
Phyllis graduated from Kansas State University with a Bachelor's Degree in Home Economics, and she taught elementary school for several years. Her cooking skills, wonderful recipes, and delightful meals will be missed by the many who had been able to enjoy them. She made it look so easy…
Phyllis had been writing her life story and finished it last week, 27 pages. The last line in her memoir, and written by her in all caps, sums up her wonderful life: "MY FAMILY AND WHAT HAPPENS TO EACH AND EVERY ONE IS WHAT MAKES LIFE GREAT FOR ME." Her last words on Monday morning were "Be Strong." We will be, Mom.
In lieu of flowers, we are confident Phyllis would appreciate any memorial contributions being made to the local Home Sweet Home Ministries, and the local Salvation Army.