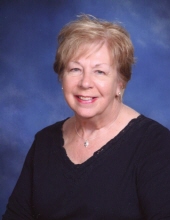 Obituary for Phyllis J. Haines
Phyllis June Haines, 77, of Bloomington passed away Thursday, November 29, 2018 at OSF St. Joseph's hospital.

She was born in Alton, IL on July 23, 1941, daughter of Eleanor and Alfred Schlobohm. She married Frank Robert Haines on September 29, 1961. Her beloved husband, Frank Robert Haines pre-deceased her in September, 2006.

She is survived by daughter Elizabeth Haines, son Robert (Patricia) Haines and daughter Valerie (Steve) Sosa all in Bloomington IL; and her grandchildren Lauren, Alex and Danielle Haines and Kyle and Kendall Sosa. She is also survived by her sister, Marge Wilson, Bunker Hill.

Phyllis was preceded in death by her parents.

Phyllis worked at State Farm Insurance Company in claims and as the editorial director for the in-house publication in Westlake Village, CA. She was an active member of St. John's Evangelical Lutheran Church in Bloomington. She was also active in Chapter JV of P. E. O. and President of her Travel Club.

Celebration of Life service will be held Saturday, Dec. 8 at St. John's Evangelical Lutheran Church, Bloomington. Visitation will be from 4-6 p.m. Friday Dec. 7th at Calvert & Metzler Funeral Home in Bloomington.

Phyllis loved her family and friends; she loved her church and many activities which included playing Bridge and Mahjongg. She loved Christmas and her home decorations were legendary. She was a wonderful mother, grandmother, sister, aunt and cousin. She was a beautiful friend to many and she is deeply missed.

In lieu of flowers, please consider a gift to St. John's Lutheran Church memorial fund or the Community Cancer Center of Bloomington IL.