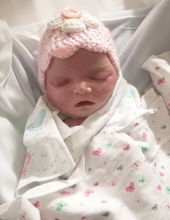 Obituary for Piper Ann Marie Henderson
BLOOMINGTON - Piper Ann Marie Henderson, passed away at 2:10 p.m. on June 5, 2019 at OSF St. Joseph's Medical Center in Bloomington, IL.

Piper is survived by her parents: Joshua Robert Henderson and Haley Marie Nichols of Bloomington, IL; maternal grandparents: Nicole Nichols of Bloomington, IL and Randy (Scott Herbig) Nichols of Jeffersonville, IN; paternal grandparents: Robert (Melissa) Henderson of Lincoln, IL; maternal great grandparents: Don Nichols, Marlis Nichols, and Marion Jobe; paternal great-grandparents: Dave (Sharon) Good. She was preceded in death by paternal great grandparents: Gerald (Ann) Henderson.

A private family burial will be held at a later date. Services are entrusted to Fricke-Calvert-Schrader Funeral Home in Lincoln, IL.