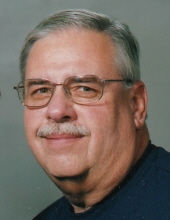 Obituary for Randall Lee Mundschenk
Graymont - Randall L. Mundschenk 70 of Graymont, passed away September 8, 2019 at his home surrounded by his family.
A private family graveside will be held Thursday, September 12, 2019 at Pike Township Cemetery. Calvert Martin Funeral Home in Pontiac is in charge of arrangements.
Randy was born December 11, 1948 in Kane County, IL the son of Walter and Gwen Burcky Mundschenk. He Married Vickie Weber in Pontiac on August 24, 1968. She survives in Graymont, IL.
Also surviving are two children. Peggy Mundschenk of Graymont and Julie (Steve) Brooks of Gridley; four grandchildren, Nicolea (Matthew) Neubauer, Pontiac, Joshua Swallow, Graymont, Zachary Brooks, Bloomington, and Abbey Brooks, Gridley. Three great grandchildren, nieces, and nephews; sister, Kathy Smiley and brother Gary (Barb) Mundschenk. Randy was preceded in death by his parents.
Randy graduated from Pontiac Township High School and worked at Pontiac Correctional Center for 26 years in food service. He loved his family, enjoyed racing, and traveling to visit relatives.
In lieu of flowers, memorial contributions may be made to OSF Children's Hospital of Illinois.