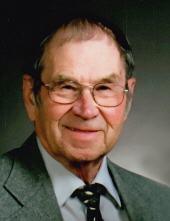 Obituary for Raymond Bernahl
LINCOLN - Raymond Bernahl, 96, of Lincoln passed away on Tuesday, September 10, 2019 at Copper Creek Cottages, Lincoln Illinois.

Raymond was born on October 8, 1922 in Altamont, IL; son of Otto and Martha (Muchow) Bernahl. He married Dorothy Mittelstead on May 23, 1948 in Lincoln, IL. she survives him.

Also surviving are his children: Gary (Cindy) Bernahl of Farmington, IL, Dennis (Beth) Bernahl of Lincoln, IL, Gene (Barbara) Bernahl of Lincoln, IL, and Cheryl Bernahl of Springfield, IL; eleven grandchildren and many great-grandchildren. He was preceded in death by his parents, 2 brothers: Lambert and Elwin, and 1 sister: Doris.

Raymond was a member of Zion Lutheran Church in Lincoln, IL. Raymond worked at Meyer's Industry in Lincoln for 28 years, then worked at the Clinton Power Plant. He was a carpenter and after retirement he still enjoyed wood working and had a sawmill. He also loved to be outdoors whether it was fishing or farming Ginseng. But above all he enjoyed being with his loving family.

Services for Raymond will be 11:00 a.m. Saturday, September 14, 2019 at Fricke-Calvert-Schrader Funeral Home in Lincoln, IL with Rev. Mark Thompson officiating. Visitation will take place two hours prior to service (9:00-11:00a.m.) also at the funeral home. Burial at Zion Cemetery in Lincoln will follow the service. Memorials may be made in Raymond's name to the Alzheimer's Association.