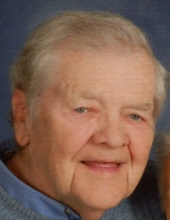 Obituary for Richard Williams
On March 3, 1929 Richard Allen Williams was born to James R. Williams and Mary M. Parks Williams in Decatur, Illinois. Richard left this earth to be with God on June 8, 2019 at Heritage Health in Bloomington. He has a sister Mary (Ed deceased) Griffin and a brother David (Martha) Williams.

Rich grew up In Bloomington, Illinois graduating from B.H.S. and going on to study at Brown's Business College in Peoria. Rich married Alberta Jacqueline De Ment on June 20, 1948 in Bloomington who preceded him in death. He later lived in rural Lexington and more recently in Hudson.

Rich and Jackie had four children, Toni (Chuck) Cunningham, Les (Keri) Williams, Lyle (Beth) Williams and Terri (Kent) Lindsey and ten grandchildren Chad (Kristie) Cunningham, Benjamin Williams (Sara Moore) , Andrew Cunningham, A.J. (Christian) Abrahamsen, Luke (Kim Williams), Kyle (Jamie) Lindsey, Dan Cunningham (Rachel Brandt), Sarah Williams (Mitch), Hannah Williams , Kate (Chris) Beckmann and soon to be 15 great grandchildren. Rich known as "Pop" was so thankful for his big family and loved them all dearly teaching them the love of God and family, the value of hard work and education and importance of helping others and of being honest.

Rich was a lifelong Christian and Lutheran at First English Lutheran Church which became St. John's Lutheran and the last 25 years at Resurrection Lutheran Church (now dissolved) and St. John's Lutheran once again.

Rich owned and operated Williams Bakery and Catering Service with his father and owned Williams Towne Hall Dinner Theatre. He ended his career as the manager of the bakery at I.S.U. in Normal.

Rich was a hard working and generous man who liked to help people. He was known to quietly gift to those in need. He did some mission work in Haiti and supported many charities throughout his life.

Along with Jackie he liked to boat and spend time outside, travel, garden, read and learn.

The Reverend Richard Gray has pastored him for the last year and a half as a volunteer Pastor at Heritage Health. Rev. Gray will preside over the funeral service. His funeral service will be at 11:00 am Sat June 15th at Calvert Metzler Memorial Home, Bloomington. Visitation will be Saturday from 10:00 – 11:00 am at the funeral home. Burial will be at East Lawn Memorial Gardens, Bloomington.

Donations to Safe Harbor (Salvation Army) or Home Sweet Home Mission would be appreciated.

The family would like to thank the kind and loving staff at Heritage Health in Bloomington and the caring and wonderful staff of Advocate At Home Hospice for their many kindnesses.