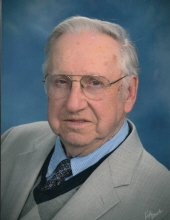 Obituary for Roland "Rollie" Gagnon
Roland Joseph Gagnon, 97, of Pontiac, IL., passed away at 12:29 am on Friday, October 04, 2019 at OSF St. Joseph Medical Center, Bloomington.
Funeral services will be held Tuesday, October 8, 2019 at 11:00AM at the First United Methodist Church in Pontiac. Rev. Tom Goodell will be officiating. A visitation will be held Monday, October 7, 2019 from 4-7 pm at Calvert and Martin Funeral Home Pontiac IL. Burial will follow the service at South Side Cemetery, Pontiac IL. Memorials can be made to the First United Methodist Church and the Livingston County War Museum.
Rollie Gagnon was born on February 15, 1922 in Taunton, Mass., the son of Joseph and Kate Gagnon. He married Eleanore Jean Moore, December 2, 1950. She passed away after 54 years of marriage in April 2005.
He is survived by one son David; one daughter Nancy (Mark) Kuster of Pontiac; two grandsons Zackery Kuster of Woodridge and Kip Kuster of Chicago, IL. He was proceeded in death by his wife, parents, two infant sons, two sisters and one brother.
He graduated from Taunton High School and the University of Illinois at Champaign-Urbana with a master's degree in Physical Therapy. He served in the U.S. Navy during WWII from 1941-1945. He was aboard the USS Earle Destroyer and was involved in both the North African and Sicily invasions. The USS Earle also escorted 17 convoys across the Atlantic Ocean and was involved in several U-Boat encounters.
His professional accomplishments are abundant. He began his career at Hines Veterans Hospital (4 years), Dwight Veteran's Hospital (11 years), and Fox Developmental Center (26 years). He worked as a Physical Therapist and eventually retired in 1989 as the Facility Director. During his time at Fox Center, he developed and fabricated many innovative design modalities to improve the quality of life of the residents. These designs, such as adapted wheelchairs and standing boxes for the severely handicapped were utilized at all State of Illinois facilities. He also developed the first approved Public Special Education School in the State of Illinois called "Dwight School for the Multiply Handicapped."
His career accomplishments also include a first of its kind "Fitness Center and Physical Therapy Club" in downtown Pontiac which opened in 1960. Although it only lasted 2 years, it was an innovative concept for its time that is commonplace today. Rollie was also instrumental in the creation of the handicapped placards for car windows to improve the safety of individuals with a disability.
He served on the Humiston Haven Nursing Home Board of Directors for 27 years as a Licensed Nursing Home Administrator. He developed the first nursing home on-site rehabilitation services and dental programs in the State of Illinois.
He worked 35 years for the Livingston County Health Department as a Licensed Physical Therapist providing home health services. He served on the District 90 School Board for 7 years and volunteered physical therapy services to Pontiac and Dwight athletes for 25 years.

Rollie continued to stay very active, educating students about his WWII Navy experiences at the Livingston County War Museum and volunteering at OSF Saint James John W. Albrecht Medical Center.
Rollie has many accomplishments through his 97 years, but will always be known most for his kindness, sense of humor, humility, and service to others. He was a wonderful husband, a great friend, and the best father and grandfather anyone could ask for. He will be greatly missed.
Previous Events
Visitation
Calvert & Martin Funeral Homes - Pontiac Chapel
413 N. Main Street
P.O. Box 649
Pontiac, IL 61764
Service
First United Methodist Church
219 N. Chicago St.
Pontiac, IL 61764
Graveside
South Side Cemetery
400 S Locust St.
Pontiac, IL 61764