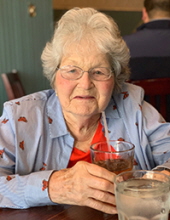 Obituary for Rosemary J. Schacht
LINCOLN - Rosemary J. Schacht, 88, of Lincoln, passed away on Tuesday, August 6, 2019 at The Christian Village in Lincoln, IL.

Rosemary was born on April 28, 1931 in Newton, IL; the daughter of Charles Otis Clark and Mary Elizabeth (Crouse). She married Robert D. Schacht Sr. on September 9, 1949 in Anchorage, Alaska. He preceded her in death.

Rosemary is survived by her daughters, Lori Schacht, Jody Schacht, Ronda Templeton, son, Bob (Barb) Schacht Jr.; eight grandchildren and thirteen great grandchildren.

She was preceded in death by her parents, husband, and stepbrother: Harold Clark.

Rosemary was a member of Lincoln Christian Church, Oasis Senior Center, former White Shrine and a Volunteer at Abraham Lincoln Memorial Hospital.

Services for Rosemary will be held at 10:30 a.m. Saturday August 10, 2019 at Fricke-Calvert-Schrader Funeral Home in Lincoln. Visitation will be held from 5:00-7:00 p.m. on Friday August 9, 2019 also at the funeral home. Burial will follow the services at New Union Cemetery. Memorial donations may be made in Rosemary's name to the Harvest of Talents.