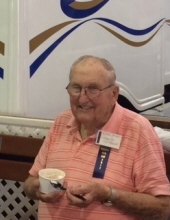 Obituary for Russell Dean Bruns
HARTSBURG - Russell Dean Bruns, 90, passed away at 2:03 a.m. on Monday December 3, 2018 at Abraham Lincoln Memorial Hospital in Lincoln, IL.

Dean was born on February 6, 1928 in Hartsburg, IL; son of Edgar and Cecil (Musgrove) Bruns. He married Betty Groth on July 6, 1947 in Lincoln, IL. She preceded him in death in 1995.

Dean is survived by his children: Gayla (John) Hughes of Riverton, IL and Randall (Debra) Bruns of Lincoln, IL; four grandchildren: Brandon (Jessica) Wibben, Drew Wibben, Justin (Elizabeth) Bruns, and Blair Bruns; two great granddaughters: Emmalene and Olivia Wibben. He was preceded in death by his parents and wife.

Dean was a life-long member of Hartsburg United Methodist Church and attended Prairieland Christian Church in Hartsburg. Dean graduated Hartsburg High School in 1945 as Class President. Later he served 9 years on the school board and in 1947 he was the Alumni Association President. Dean proudly served in the United States Army from 1954-1956. Dean assisted with the Logan County Fair for 70 years, 35 years serving on the board, and for the last 24 years and currently he has been the President of The Logan County Fair. In 2006 at the Illinois State Fair from the Illinois Association of Ag, the Governor presented Dean with the Outstanding County Fair Person of the Year for 62 years of service.

Dean was also very active in Lay Witness Missions, where he coordinated over 200 missions in 147 churches for 37 years in the Central U.S., Alaska, and Florida. He was involved in the establishment and construction of Camp Griesheim Christian Retreat Center; he also served on Camp Griesheim's board for 35 years. He also served on the board of Hartsburg Grain Company, where he served on the board for 34 years, Vice President for 22 years, and President for 12 years.

In 2011, Dean was named Lincoln Courier's July Citizen of the Month. Dean was also very active in music and entertainment including: Lincoln College Community Choir member from 1950-1954, Hartsburg Emden Community Choir Chairman, Bloomington Barbershop member for 3 years, Hartsburg Centennial Chairman in 1971, and Hartsburg Quasquicentennial Entertainment Co-Chairman in 1996.
Services for Dean will be 11:00 a.m. Saturday December 8, 2018 at Prairieland Christian Church in Hartsburg, IL with Joe Sanders officiating. Visitation will be from 4:00-8:00 p.m. Friday December 6, 2018 also at the church and one hour prior to the service on Saturday (10:00-11:00 a.m.). Burial at Hartsburg Union Cemetery will follow the service, where full military rites will be accorded by the American Legion Post #263.

Memorials may be made in Dean's name to Camp Griesheim Christian Retreat Center or the Logan County Fair Foundation. Services are entrusted to Fricke-Calvert-Schrader Funeral Home in Lincoln, IL.