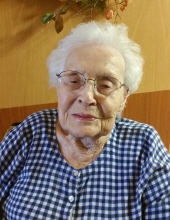 Obituary for Ruth E. Freed
Ruth E. Freed, 101, of Bloomington, IL formerly of Lexington, IL died at 10:06 p.m. Sunday, December 2, 2018 at Heritage Health, Bloomington, IL.
Funeral Services will be 11 a.m. Thursday, December 6, 2018 at the First United Methodist Church, Lexington with Rev. Garry Gromley officiating. Burial will follow at Gridley Cemetery. Visitation will be 9 to 10:45 A.M. Thursday at the church. Memorials may be made to The East Bay Camp Freed Point 24248 Ron Smith Highway, Hudson, IL 61748 Calvert-Johnson & Musselman Memorial Home, Lexington is assisting the family with services.
Ruth was born October 26, 1917 in Gridley, IL the daughter of Charles J. and Emma L. Pfeffinger Klein. She married William "Bill" Freed on February 10, 1965. He died January 5, 2014.
Surviving is one sister Mary Bowe of Columbia, SC and many nieces and nephews.
She was preceded in death by her parents, three brothers, and one sister.
Ruth was a member of the First United Methodist Church, Lexington, IL. She graduated from Gridley High School in 1936 and then Gallagher Business School in Kankakee. She went to work as a secretary for the President of the University of Illinois in Champaign for 26 years. Ruth did not drive while in Champaign and walked the 11 blocks to and from work every day. After they were married Ruth and Bill farmed in the Lexington and Gridley area for many years.