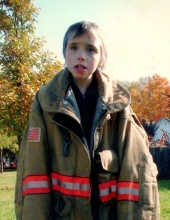 Obituary for Ryan Douglas Pender
BROADWELL-Ryan Pender, 25, of Broadwell, passed away on Thursday, March 7, 2019 at Abraham Lincoln Memorial Hospital, Lincoln IL. with his loving mother by his side.
Ryan was born on December 2, 1993 in Carbondale, IL; the son of Adrian "Abe" and Leni (Horecker) Pender.
Ryan is survived by his parents; his brothers, Nicholas (Kari) Pender and Michael Pender; his two nephews, Oliver and Trent Pender; and his paternal grandparents, Adrian and Geraldine Pender.
Ryan loved country music and his daily drive to McDonald's for his Mocha Frappé.
Services for Ryan will be held at 1:00p.m. on Tuesday, March 12, 2019 at Fricke-Calvert-Schrader Funeral Home in Lincoln. Visitation will take place from 4:00-7:00p.m. Monday, March 11, 2019 also at the funeral home. In lieu of flowers memorial donations may be made in Ryan's name to Chromosome 18 Registry and Research Society.