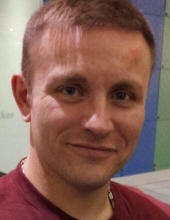 Obituary for Samuel Thomas "Sam" Cowdery
Samuel Thomas "Sam" Cowdery, 42 of Bloomington passed away at 2:37 PM Tuesday March 12, 2019 at his residence.
There will be a memorial service for Sam on Saturday March 16, 2019 at 12 Noon at Calvert & Metzler Memorial Home in Bloomington. Pastor Nolan Recker will officiate. There will be a visitation from 10 AM - 12 PM Saturday at the Memorial Home.
Sam was born November 4, 1976 in Normal to Thomas Cowdery and Linda Carey. He is survived by his parents Thomas (Deb) Cowdery of Bloomington, Linda (Marlon) McClure of Bloomington, his son Leeland Cowdery at home, his siblings, Benjamin Cowdery of Bloomington, Tracy (Jon Forrest) Padgett of Pekin, BJ (Jenny) Still of Eureka, Brandi Hendricks of Bloomington, Travis Still of Leroy, a very special niece Amber Lou Cowdery and twelve other nieces and nephews.
Sam was a great father with a big heart and loved to help others. He recently celebrated thirteen years of sobriety and was an active member of Narcotics Anonymous as well as Celebrate Recovery. He attended Vale Church in Bloomington. Sam loved passing his time making jewelry which he had a passion for and spending time with family and friends. He was an avid camper, St. Louis Cardinal and Chicago Bears fan. He was a 2011 graduate of Illinois State University and was employed at Bob Evans. His favorite phrase was "You have to live life on life's terms".
In lieu of flowers memorial contributions may be made to an educational fund for his son Leeland Cowdery.