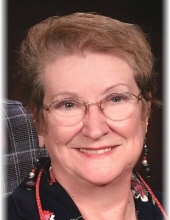 Obituary for Shirley J. Armstrong
Shirley J. Neal Armstrong, 82, of Lexington, IL passed away at 1:52 p.m. Monday, June 24, 2019 at Advocate BroMenn Medical Center, Normal.
Funeral services will be 11 a.m. Thursday, June 27, 2019 at Calvert-Johnson & Musselman Memorial Home, Lexington with Pastor Tyler Hari officiating. Burial will follow at Lexington Cemetery. Visitation will be 9 to 10:45 a.m. on Thursday at the memorial home. Memorials may be made to the Lexington Food Pantry or the Lexington Ambulance
Shirley was born April 24, 1937 in Normal, IL the daughter of Clifford K and Violet L. Collier Neal. She was raised by her mother and step father John R. Beagles. She married Keith W. Armstrong on September 5, 1954 in El Paso, IL. He died October 28, 2005.
Surviving are three sons: Clifton (Dorothy) Armstrong of Colfax, Lyndel (Karen Wingo) Armstrong of Normal, and John (Kelly) Armstrong of Bloomington; one sister Joyce (Bill) Nyilas of Springfield; one brother Jerry (Jan) Nicholson of Huntsville, AL; seven grandchildren and two great grandchildren.
She was preceded in death by her parents and her step-father.
Shirley was a member of Eastview Christian Church, Normal. She worked as Real Estate Broker, GRI, CRS, PRPA. and was a certified appraiser. She held an Insurance Producers License and a Securities License. She became a Licensed Real Estate Agent in 1967 and retired in 2016 after 49 years. She and Keith also farmed in the Lexington area for many years.