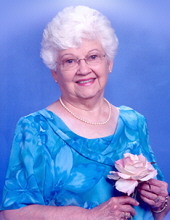 Obituary for Shirley Jean Singley
MT. PULASKI - Shirley Jean Singley, 93, of Mt. Pulaski, passed away at 1:20 P.M. Sunday July 28, 2019 at Vonderlieth Living Center in Mt. Pulaski.

Shirley was born on November 11, 1925 in Rockford, IA to Elmer and Lena (Logan) Smith. After the death of her mother at a young age, she was adopted and raised by Frank Alvin and Sarah Hattie Logan. She married Melvin E. Singley on March 31, 1946 in Lincoln, IL. He preceded her in death on April 23, 2015.

Surviving Shirley are her daughters, Rebecca (John) Drake of Chestnut and Jane DeWitt of Lincoln, three grandchildren, Andrea Manner, Deirdra (Bryan Copeland) Drake and Andrew DeWitt, and five great-grandchildren, Nicholas Scassiferro, Sebastion Scassiferro, Abigail Manner, Brenna Avery DeWitt and Amelia SuzAnne DeWitt. She is also survived by her two sisters-in-law Helen Singley of Lincoln, Rose Singley of Topeka, IL and her brother-in-law Robert Singley of Mountain Home, AR.

She was preceded in death by her son Rev. Todd Singley and seven brothers and sisters. She was the last of her immediate family. Shirley was an avid reader and seamstress and was a blue ribbon award winning quilter. She was an officer and active member of the WSCS with the Methodist Church women.

Graveside services will be at 2:00 P.M. Thursday August 1, 2019 at Mt. Pulaski Cemetery with Rev. David Hutton officiating. Memorial donations may be made to the First United Methodist Church. Fricke-Calvert-Schrader Funeral Home, Mt. Pulaski, is entrusted with services.