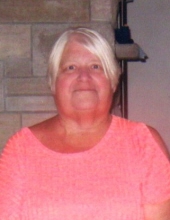 Obituary for Sue Graber
ATLANTA- Sue Graber, 66, of Atlanta passed away on Friday, December 28, 2018 at HSHS St. John's Hospital in Springfield, IL.

Sue was born on December 28, 1952 in Quincy, IL the daughter of Ben E. and Mary (Seger) Harris. She married Marvin Graber on December 15, 1973 in Atlanta, IL. He survives her in Atlanta.

Sue is also survived by her children, Mary M. Graber of Bloomington, Duane (Luane) Graber of Breese, IL, and Adam Graber of Springfield; her siblings,

Ronald (Joanne) Harris of Quincy, Kathleen (Garnet) Symington of Macon, MO, and Roger (Karen) Harris of Barry, IL; her five grandchildren, and four great-grandchildren.

Sue was preceded in death by her parents; and her daughter, Stacy.

Sue loved spending time with her family; her grandchildren and great-grandchildren meant so much to her.

Services for Sue will be held at 2:00pm on Monday, December 31, 2018 at Fricke-Calvert-Schrader Funeral Home in Lincoln. Visitation will take place from 12:00-2:00pm on Monday, December 31, 2018 also at the funeral home. Burial will follow the services at Atlanta Cemetery. Memorial donations may be made in Sue's name to Atlanta Cemetery or The American Cancer Society.