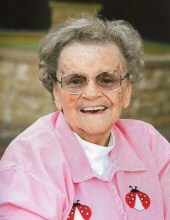 Obituary for Virginia L. "Jenny" Landstrom
Virginia (Jenny) Landstrom, 82, of Bloomington, passed on to join her husband in Heaven on June 9, 2019 at OSF St Joseph Medical Center.

Jenny was born on April 12, 1937 in Bloomington to Lee B and Elizabeth C Sprague. Jenny married Duane Walter Landstrom on November 20, 1955; he preceded her in death in 2013.

She is survived by her five children: Patricia (Timothy) Collier, Bloomington; Michael ("Bull") Landstrom, Roberts, IL; Jeanette (Kathy) Kessinger, Waupaca, WI; Jennifer ("Bama"/"Oscar") Thrasher, Wetumpka, AL; Yvonne ("Kris") Stroleny, Bloomington, IL.
She is also survived by nine grandchildren and 11 great-grandchildren.

She was preceded in death by her parents, her husband, and 2 great-granddaughters.

Jenny was a loving wife, mother, grandmother and great grandmother. She was a domestic engineer and farm assistant to her husband. She fiercely loved her family and enjoyed spending time with them and had a wild and wicked sense of humor.

A Celebration of Life will be from 2:00 – 4:00 pm Thursday at Calvert Metzler Memorial Home, Bloomington

In lieu of flowers, the family asks that donations be made the their Relay for Life team,
Landstrom's Warriors
( https://secure.acsevents.org/site/SPageServer?pagename=relay_donate_now ), the Roberts, IL Fire Department, or the Bloomington Fire Department.

In the words of our mom: Have a good day, and eat all your worms.