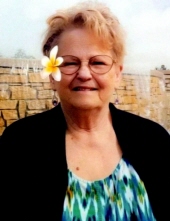 Obituary for Barbara Mae "Barb Lovin" Cisco
ATLANTA - Barbara Mae "Barb Lovin" Cisco, 72, of Atlanta, IL passed away on Thursday, November 14, 2019 in her home surrounded by her loving family.

Barb was born on November 1, 1947 in Lincoln, IL the daughter of Mary and Charles Lovin. She married Bobby Cisco on November 6, 2004.

She was a well known beautician in Logan County. She was a member of The Full Gospel Evangelistic Center. Barb lived for her family. She enjoyed going to church and spending time with her family, and having her grandkids. She loved doing things to help anyone and being outside. She loved fishing, camping, and boating. She loved her family dearly and took great care of them.

Surviving are her husband, Bobby; daughter, Jeannie Nolan; two sons, Charles and Bobby White; granddaughters, Kristal White, and Michelle Lovelett; grand sons, James White, Charles White, and Matthew Dobbs; great-grandchildren, Braidon White, Alivia Lovelett, Knotis "Davey" Lovelett, Anastasia White, and Joanie Dobbs; several nieces, nephews, cousins, and friends also survive.
She was preceded in death by her parents, Charles and Mary Lovin; sister, Brenda Lovin; and brother, Charles Lovin.

The family wishes to thank everyone who has rode out this journey with us. Thank you to all of our church family and friends for all the prayers and support. She was dearly loved by many and will be missed by all. We love you! Spread your wings and fly!

Services for Barb will be held at 11:00am on Tuesday, November 19, 2019 at Fricke-Calvert-Schrader Funeral Home, Lincoln. Visitation will take place two hours prior to the service (9:00am-11:00am) also at the funeral home. Burial will follow the services at Zion Cemetery, Lincoln. Memorial donations may be made in Barb's name to St. Jude Children's Hospital or Shriner's Hospital.